Discover more from SpyTalk
Intelligence for Thinking People
Over 20,000 subscribers
China's Spy Plot is Full of Holes
Beijing claims Operation 'Thunderbolt 2020' netted 'several hundred spies.' Where are they?
As spy stories go, China put on quite a show this week. Problem was, the plot was full of holes.
As if dreamt up by a cinematic maestro, Chinese broadcast and print media announced a startling development over October 11 and 12: Beijing's State Security forces had "recently" "captured several hundred Taiwan spies."
Not so recent it turned out. And the details were scant: nothing on when the operation started and ended, nor about the actual number of spies captured. If true, Operation "Thunderbolt 2020" would be the largest haul of alleged spies since the Cultural Revolution five decades ago. But observers were left with the classic question of any spy-story whodunnit worth the ticket price: Where are the bodies?
This is not to minimize the spying competition between the two Chinas. The espionage services of the People's Republic of China (PRC) and their rival, the Republic of China (ROC) in Taiwan have run numerous espionage operations against each other since the end of the Chinese Civil War in 1949.
Throughout the 1950s and 1960s, the Nationalist Chinese on Taiwan and their American allies worked year after year to insert agents into eastern China—who were mostly caught and killed—though the CIA managed some successful paramilitary operations in Tibet between 1956 and 1969. 
Meanwhile, in the wider spy game, China had at least one valuable agent inside the CIA: Larry Wu-tai Chin, who was only uncovered during a long investigation ending in 1985—after more than three decades of work on behalf of the PRC.
The FBI's apprehension of Larry Chin was indirectly triggered by Deng Xiaoping's "reform and opening" policies that began in 1979, allowing more foreigners into China. Deng may have never really said, "To get rich is glorious" (he actually said, "Let some people get rich first") but after decades of Maoist poverty and isolation, his economic U-turn not only released a pent-up demand among Chinese to make money, but opened the doors wider to foreigners, among them cash-toting intelligence officers looking to recruit spies. 
One of their marks was Yu Qiangsheng, a senior officer in China's newly minted Ministry of State Security, who provided the CIA with clues that led to Larry Chin.He defected to the U.S. in 1985.
Also among the foreigner visitors were thousands of Taiwanese business people, who provided Taipei's spy agencies with new opportunities. So, too, could China's spy agencies capitalize on the traffic: Some Taiwanese visitors to the mainland were recruited by Beijing to return and spy on the ROC. As Deng himself remarked: "When you open a window, in comes some fresh air, but sometimes it is hard to avoid one or two flies." 
However, if measured in exposed spy cases alone since Xi Jinping's ascent to power in 2012, Beijing appears to have the upper hand in its espionage competition with Taipei. But Thunderbolt 2020 looks to be, at best, a propaganda exercise.
Full Flush
There are several reasons why the alleged big bust of Taiwan spies by China's Ministry of State Security seems to have more to do with politics than spy-catching. When Beijing publicizes a genuine spy case on Chinese soil, it rarely discusses details beyond a terse allegation of espionage. By contrast, when the target is a human rights activist, a political dissident, or an errant foreign NGO, Beijing will release voluminous details of the target's activities—none of which actually shows acts of real espionage.
That politics was in command on this latest uproar was reflected in Beijing's warning that "any behavior that endangers national unity and harms national security interests"—particularly efforts promoting the independence from China of Hong Kong and Taiwan—would result in "self-immolation."
It was a tone deaf and ironic statement coming from a regime whose harsh ethnic policies have, over the past decade, prompted over 100 ethnic Tibetans to burn themselves to death with gasoline in acts of protest.
Beijing's side of the spy story focused on criticizing the evils of not just Taiwan independence but sentiments for the same in Hong Kong. It was revealing that the only detail Beijing provided on one suspect apprehended in Thunderbolt 2020 actually made him appear to be a political activist, not an intelligence officer or a suborned agent.
A Taiwanese man, Li Mengju, was the unfortunate star of the show, apprehended in Shenzhen on 20 August 2019. He was apparently caught red-handed with 18 videos and 46 photos that he took of Chinese People's Armed Police (PAP) soldiers rehearsing crowd control tactics in the nearby Shenzhen Bay Sports Stadium.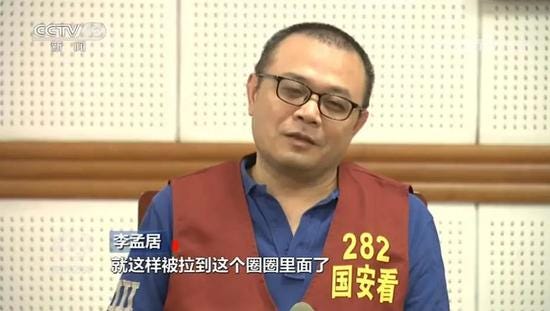 Shenzhen State Security Bureau officers told the Chinese press that Li's photos and videos were "secret level, military secrets." 
Double Feature
It was a curious accusation, since Sky News Australia and other foreign outlets broadcast the same sorts of images on 18 August, two days before Li's arrest on the 20th. Somehow these foreign reporters escaped scrutiny, but the nearly identical activity by a Taiwan activist required a sterner response, even though the images he took were already public.
Chinese media said that Li Mengju arrived in Hong Kongon August 18, which happens to be the same day as Sky News broadcast their report. They focused on his alleged previous independence activism in Taiwan as well as the U.S.: his meetings in Hong Kong with another activist, one Chen Ya-lin, to support the "black clad people" (as Beijing calls Hong Kong demonstrators); the pro-independence leaflets they printed; and Li's trip to Shenzhen to observe the People's Armed Police. 
The fallacy behind Li's capture being part of "Thunderbolt 2020" lies in part with his apparent lack of actual espionage activity, not to mention the fact that by Beijing's own account he was captured the previous year. 
China's bottom line was a threat: anyone in Taiwan supporting Hong Kong separatism is in violation of Hong Kong's new National Security Law, and is subject to a prison sentence of three years to life. Thus, Thunderbolt 2020 appears to be a straw man of sorts, intended to express the Chinese Communist Party's frustration with its lack of options to force Taiwan into reunification on Beijing's terms. 
In playing up Taiwan as an exaggerated threat to the PRC's national security, Thunderbolt 2020 may also be China's justification to take seriously its threat to eventually, if not sooner, resolving Beijing's Taiwan problem by force of arms.
"Don't say I didn't warn you," a harsh commentary in the People's Daily said.
SpyTalk Contributing Editor Matthew Brazil is the co-author, with Peter Mattis, of Chinese Communist Espionage, An Intelligence Primer.