China Syndrome: How Xi Played Trump on Fentanyl
The DEA just announced an all-time historic meth bust. Missing: The Big Panda
Roll the film again. 
On Wednesday the Drug Enforcement Administration unveiled a bust of over two tons of methamphetamine, seized October 2 from some Sinaloa cartel stash houses in the Los Angeles area. 
Officials called it, "the largest DEA domestic seizure of methamphetamine in history...a significant blow to the cartels...a gigantic victory for communities throughout Southern California and the United States."
The biggest meth bust "in history." You can look up the numbers—huge by any standard. 
Congratulations to the DEA. But: Acting DEA Administrator Timothy J. Shea and William Bodner, Special Agent in Charge of the DEA office in L.A., didn't mention the 900-pound panda in the room.
China.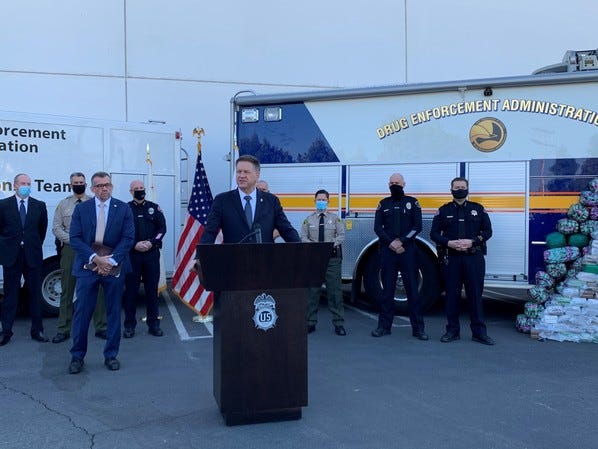 According to DEA narcotics intelligence assessments, China, which boasts the world's biggest legitimate chemical industry by revenue, is also the biggest source of chemicals for the skyrocketing underground meth and fentanyl industries and for other synthetic dope as well. DEA's January 2020 narcotics intelligence report calls China the "primary source" for the U.S. trade in fentanyl, a synthetic opioid painkiller 30 to 50 times stronger than heroin. 
Fentanyl was developed to treat terminal cancer patients but is now a street drug often found mixed with heroin or meth. The Centers for Disease Control and Prevention says that synthetic opioids, mainly fentanyl, are responsible for tens of thousands of overdose deaths in the United States. China is also the main source for precursor chemicals used by Mexican cartels to manufacture tons of methamphetamine, the cheap, addictive stimulant flooding the U.S. market for more than a decade.
Once upon a time, Washington and Beijing said they were going to work together to tame the tide of Chinese precursor chemicals.
In December 2018 President Trump and Chinese president Xi Jinping made a much-hyped deal for a Chinese crackdown on fentanyl smuggling—"a wonderful humanitarian gesture," Trump called it. Joining Xi for dinner on the margins of a G-20 meeting in Buenos Aires, Trump went on to gush that he and Xi had concluded an "amazing and productive meeting with unlimited possibilities for both the United States and China." 
"It is my great honor," Trump said, "to be working with President Xi."
Trump's ingratiating demeanor toward China's leader has become fodder for his political rivals. The Lincoln Project's latest attack ad accuses him of "Making China Great Again."
After his "amazing" meeting with Xi, Chinese authorities took some modest steps to stem fentanyl trafficking, but they have not dealt decisive blows to the underground trade, nor to entrenched Chinese transnational organized crime groups that smuggle chemicals used to manufacture illegal drugs. Publicly, they have categorically denied U.S. charges that China is the world's biggest source of fentanyl—raising the prospect that Xi was simply playing an American president who is eager to show progress fighting illegal drugs, which are causing heartache in untold millions of American households 
Chinese precursor chemicals are still in ample supply in the illicit drug industry. That's evident from soaring seizure statistics. According to the latest published figures from U.S. Customs and Border Protection, (which do not include this month's mega-busts in California), fentanyl seizures at U.S. borders are up 30 percent in fiscal 2020 over the previous fiscal year, and meth seizures have doubled this fiscal year, as of August. Seizures of illegal currency at the border are up 35 percent, to $93.3 million as of August. The final tallies are sure to be even starker.
Last year, when China said it was criminalizing the trade in fentanyl, putting it on a list of controlled substances, a spokeswoman for the DEA called it a "significant" announcement, saying in a statement that it would "eliminate Chinese drug traffickers' ability to alter fentanyl compounds to get around the law."
"We look forward to our continued collaboration with China to reduce the amount of this deadly poison coming into our country," the spokeswoman, Mary Brandenberger, said.
And this week, a DEA official told SpyTalk, "We have a productive relationship with our partners in China and continue to work with them." This, even with the U.S.-China relationship nearing a breaking point after three years of a trade war, U.S. sanctions on Chinese officials, diplomatic and military clashes and mounting arrests of spies in each country.
Some veteran drug investigators are skeptical.
"We're seizing more, but way more is getting through," Jaeson Jones, a retired captain from the Texas Department of Public Safety's Intelligence and Counterterrorism Division, tells SpyTalk.
"We're going to see more deaths from fentanyl and meth, and you lay that over the depression from covid, and 2020 is a shitshow," he said.
"Let's face It—drugs are one of the world's leading businesses, illicit or otherwise," says Mike Chavarria, a recently-retired DEA supervisor who served 32 years in Mexico, South and Central America, California and Texas. "Corrupt governments such as Mexico and China have benefited from its lucrative distribution for years."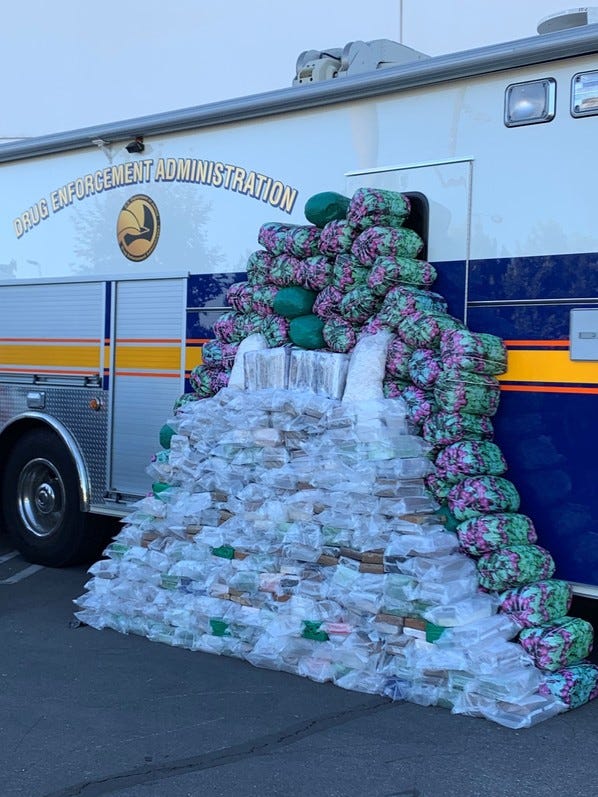 Mexico's Sinaloa cartel, under legendary former narcolord Chapo Guzman, introduced super-labs for meth sometime around 2005, essentially driving mom-and-pop meth labs in the U.S. out of business. (Captured in 2016 and extradited to the U.S. a year later, Guzman is now serving a 30-year prison sentence.) More recently, the upstart CJNG (Cártel de Jalisco Nueva Generación) has emerged as the other mega cartel. It also operates super-labs just south of the U.S. border. 
Both cartels are globalized, purchasing massive shipments of chemicals that arrive in 55-gallon drums delivered by merchant ships to Mexican ports.  
The two cartels are at war over territory adjoining California and the Southwest, and the body count is rising fast, American law enforcement officials tell SpyTalk. The violence obscures their sophisticated international operations, with lawyers, financiers, technical experts, shipping specialists, counter-surveillance teams and propaganda cells stationed in Mexico and worldwide.
Because the pandemic has shut down a lot of ordinary car and pedestrian border crossings between the U.S. and Mexico, and also between the U.S. and Canada, U.S. authorities believe the cartels have shifted their tactics to sending larger drug loads inside commercial cargo, which is still allowed across the line. When suspicious U.S. agents pulled aside one big tractor-trailer for a second look last week, they discovered over 1,800 packages of meth commingled with medical supplies.
But the Mexican cartels aren't putting all their money on China. They've been diversifying their supply chains by boosting purchases of precursor chemicals from India, another major producer of industrial chemicals, and from smaller markets where chemical controls are weak to non-existent.
"China and India have both served as willing sources for these chemicals, which continue (to this day) to flood into Mexico," says Chavarria. "Ephedrine, and now fentanyl, have been imported into Mexico virtually unchecked. Why?  It's simple: corruption."
"The cartels are the government," Jones, the retired Texas police captain, told SpyTalk. "Everything is controlled at the highest levels in Mexico. The Mexican government will not go after Sinaloa and CJNG labs because the government and cartels are so intertwined. They work cohesively."
Jones, now consulting to news outlets for intelligence and analysis about drug trafficking and organized crime in Mexico, reported last April in Breitbart News that the Sinaloa and CJNG cartels were developing work-arounds for any Chinese crackdown: They're hiring university-trained Mexican and Latin American chemists to innovate new formulas for fentanyl and meth, using basic chemical building blocks available on the black market and subject to less international scrutiny than finished fentanyl.
DEA officials confirm this development to SpyTalk. "Cartels have recruited chemists who are able to take precursor chemicals from China and turn them into meth and fentanyl," says a knowledgeable official, who requested anonymity to speak freely.
Chinese Checkers
Under pressure from the Trump administration, on April 1, 2019, China announced that it would control fentanyl "analogues" as a class. Analogues are chemicals that act on the body like fentanyl but have been slightly tweaked at the molecular level to evade the technical definition of the opioid and escape regulation.
The DEA is negotiating with Chinese officials to open two new offices inside that country and work more closely with Chinese police.
Some investigators who have delved into the China-Mexico connection are skeptical.
"It's all optics," scoffs a recently retired DEA veteran now working as a U.S. government  contractor, who likewise asked for anonymity to speak freely. "The reality is, the new offices are going to be nothing posts. The Chinese are not our friends. The Chinese are fighting the second opium war against the U.S."
The idea of China exporting drugs to weaken foreign adversaries was first and most prominently put forward in Unrestricted Warfare,a 1999 book by two colonels in the Peoples Liberation Army. But most U.S. experts and officials dismiss the idea that Beijing has adopted such an incendiary strategy. Chinese entrepreneurs are doing fine on their own.
Bryce Pardo, an expert at the RAND Corp, told NPR  last year that Chinese authorities "already have problems enforcing existing laws." He said official reports show the country does not have enough inspectors for facilities, and law enforcement would have to "take a sample" from a facility and eventually "analyze whether it's a fentanyl-related structure."
Massive purchases of chemicals from China have enabled the Mexican cartels to gain a critical advantage over drug traffickers from other nations: they no longer need to look to Andean farmers, processors and brokers for coca paste and cocaine base to be processed to white cocaine powder, nor to Colombians and Afghans for opium to make into heroin.
"Methamphetamine is considered a 'cash crop,' much like marijuana, by Mexican drug traffickers, who can manage their production and distribution exclusively without having to rely on a foreign partner from South America," says Chavarria. "It is relatively easy to produce on a large-scale and can be rapidly transported north to satisfy U.S. demand. Mexico's meth production grew exponentially in the late '80s once the United States instituted tighter regulations controlling essential access to precursor chemicals." 
Gushers
Today, one super-lab in Mexico can produce several tons of meth a week, and there are dozens of labs of that size. Analysts say some meth super-labs are pivoting to churn out fentanyl. On the streets of the U.S., some fentanyl is being mixed with heroin or meth, enhancing the user's high and raising his risk of dying of an overdose. Fentanyl is also being pressed into pills to be sold as counterfeit Oxycontin as the real pharmaceutical pain-reliever is controlled more aggressively because it is blamed for much of the current opioid crisis.
Some of Mexico's lethal products transit the U.S. on the way to other places where demand is strong. For instance, in January 2019, Customs and Border Protection investigators set what remains their agency's all-time record, by seizing 3,810 pounds of meth hidden inside a cargo of speakers at the Los Angeles-Long Beach seaport, waiting to be shipped to Australia. That much meth would have commanded nearly $1 billion on the streets of Australia, where meth and cocaine are in demand and command premium prices.
Last month, a memorandum issued by the Trump White House threatened Mexican president Andres Manuel Lopez Obrador with sanctions if he and his government did not attack the drug trade, especially fentanyl and Chinese precursor chemicals. It said:
The Mexican government should acknowledge the alarming trend of fentanyl production inside its territory. It must prioritize law enforcement action targeting cartel production and trafficking of fentanyl—the leading substance involved in drug overdose deaths in the United States—and strengthen efforts targeting fentanyl precursor chemicals overwhelmingly trafficked from China, as well as fentanyl smuggling and production. More must also be done to target the cartels' increasing production of methamphetamine.
Chinese and Mexican officials ignored Trump's threat. "We don't have any weight on our conscience," Lopez Obrador said, noting that Trump was campaigning for reelection. 
Chinese officials did not comment.
The Trump administration is under pressure to produce results because overdose deaths are mounting. In the administration's first two years, 137, 604 Americans died from overdoses, according to the CDC. Of those deaths, the CDC attributed the largest number, amounting to 59,801 deaths, to fentanyl or other synthetic opioids. That's double the 30,478 deaths involving heroin during Trump's tenure. Cocaine contributed to 28,608 deaths and meth, 23,001, the CDC said. Overdose deaths for fentanyl and other synthetic opioids jumped an alarming 10 percent between Trump's first and second year in office, according to the CDC. (The agency has not yet released numbers for 2019 and 2020.)  
A Hole in the Wall
What does the Trump administration have to show for its efforts to stem this grim tide? So far, 341 miles of border wall, according to U.S. Customs and Border Protection, and a good stretch of that may be a replacement barrier. On October 8, an Arizona news report said loads of Trump's wall materials are being hauled off and sold for scrap in Mexico. 
As far as we know, Mexico hasn't paid a peso for Trump's wall. Though it remains one of Trump's top priorities, it did not stop that whopping cache of meth and fentanyl in a tractor-trailer that rolled up to the line at the Otay Mesa land port on Oct. 9. Like most large loads of dope encountered these days, and like many loads that get through, that contraband was in a commercial carrier heading straight through the checkpoint, not out in the backcountry where barriers are being built or replaced. DEA and CBP officials won't say what tipped them off to the truck involved in the Otay Mesa bust, but in most cases, the answer is, intelligence from human sources, i.e. snitches. The good ones take years and a lot of money to cultivate. As in other types of intelligence-gathering, brave, smart people are invaluable. 
Without more of them, this administration's war on drugs may be remembered mostly for rhetoric, raggedy wall segments and gravestones. 
"Corruption continues to get in the way," says Chavarria. 
"The bottom line is, until Mexico and China both demonstrate a true willingness to fight the war on drugs, we'll continue to see record seizures here in the United States."
SpyTalk Contributing Editor Elaine Shannon is the author, most recently, of Hunting LeRoux: The Inside Story of the DEA Takedown of a Criminal Genius and His Empire.
Jeff Stein contributed to this story.